Domaine du Château d'Eau
Languedoc
About Domaine du Château d'Eau
Domaine du Château d'Eau is located near Béziers, in the village of Colombiers, at the heart of the Languedoc region. The vineyard sits on a plateau dominating Vendres ponds on one side and the Orb valley on the other. The estate spreads over about sixty hectares of vines and produces organic Pays d'Oc IGP wines (Protected Geographical Indication).
The soils are mainly composed by limestone marls. One can still find traces of old lagoons with fossilized oysters and mussels. These light soils enable a deep rooting of the vines, favoring their blossoming and balance. The vineyards are composed by 40% of whites (Chardonnay, Sauvignon and Viognier) and 60% of reds (Pinot Noir, Cabernet-Sauvignon, Merlot, Syrah and Cinsault for rosé wines).
Surrounded by a Mediterranean climate, the vines are blossoming on this dry and windy land. High temperatures and a good protection to the wind offer great conditions for viticulture. The deep clay and limestone terroir, helped by the sea influence, allows the elaboration of pleasure and fruit-driven wines. Organic agriculture certified since 2005, the Estate is managed by Vincent Mock who takes special care of the vines. Organic agriculture principles are quite simple, no chemical pesticides, herbicides of fertilizers. It's a philosophy, a mind-set. The soils are mechanically worked on a regular basis. The treatments are limited to the minimum and only with sulphur and cooper, respecting organic farming guidelines.
The winery is located in Fabrezan, in the Corbières region at Château La Boutignane (50 km from Domaine du Château d'Eau). Located on a hillside next to the vineyard, the winery is half-buried on the back part, enabling the harvest to be brought directly above the vats. The building is a listed historical monument, the remarkable framework has been built by Gustave Eiffel's office.
Entirely thought over in 2005, the winery was conceived in order to limit unnecessary handling of the grapes and wines to preserve their qualities. The fermenting vats are located above the ageing vats to use only gravity and avoid pumping. The Château have a storage capacity of 10 000 hl in concrete and wood vats. It can vinify and produce 350,000 bottle per year.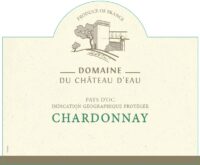 Chardonnay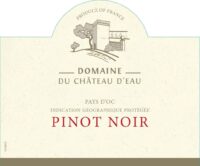 Pinot Noir